To vote or not to vote? Lawsuit seeks clarity on whether city stadium funding will need referendum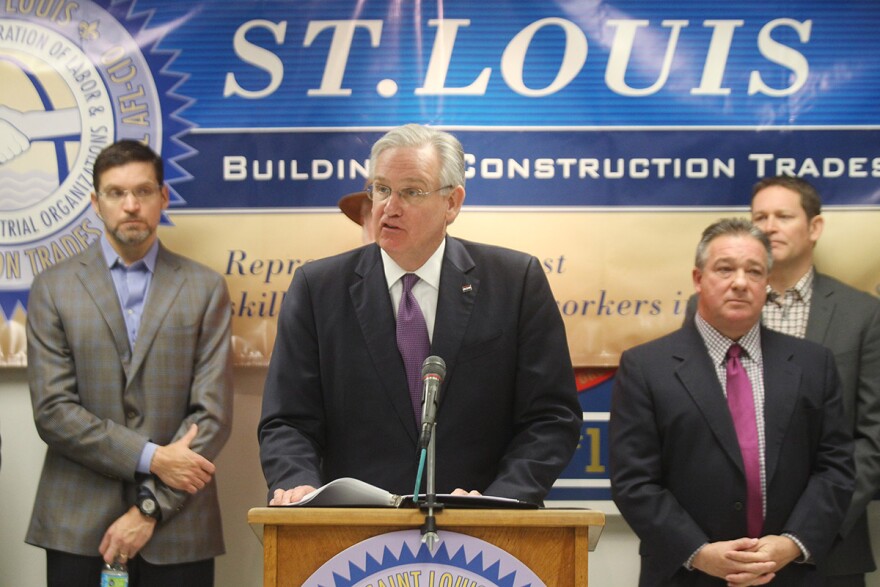 The caretakers for the Edward Jones Dome have initiated a lawsuit to see whether St. Louis residents will have to vote to approve public financing of a proposed riverfront stadium.
It's a legal maneuver that seeks to clarify a sticking point in obtaining the money for a project that could keep professional football in St. Louis.
With the St. Louis Rams eyeing a move to Los Angeles, policymakers have proposed building a roughly $1 billion stadium on St. Louis riverfront. Part of the funding for that facility would come from extending bonds paying for the Edward Jones Dome that are supposed to expire in 2021.
But a St. Louis ordinance requires a public hearing and a public vote before there's any financial assistance for stadiums. With some ambiguity over whether that applies to a bond extension, the St. Louis Regional Convention and Sports Complex Authority has sued the city to effectively get a definitive answer.
"Our counsel has advised that because the proposed stadium involves a significant private financial commitment and no additional tax increase, another vote by the public is not needed, said Regional Sports Complex Authority President Jim Shrewsbury in a statement. "However, given the threat of protracted litigation, the RSA is asking the court to provide legal certainty on this matter now so that we can continue to move forward within the timeframe established by the NFL."
The move comes as political momentum grows to subject the bond extension to some sort of vote, either through the General Assembly for the state portion of the bonds or through a vote of the people in the city. In fact, St. Louis County was probably taken out of paying for the new stadium because County Executive Steve Stenger was adamant that a countywide vote take place for the bond extension.
But in a statement, Dave Peacock – the co-chair of a task force pushing the stadium – contended "a public vote is not required."
"Our stadium proposal is gaining significant support throughout the region because it is sensible and it will work," Peacock said. "Our financing model relies on a balance of private investment, from the St. Louis Rams and the National Football League, as well as revenue sources that have been approved by the voters.
"However, to finalize our proposal in the accelerated timeframe required by the NFL, it's important to obtain legal clarity quickly," he added. "I have briefed the NFL on today's action and we will remain in close contact with the league, and the Rams, throughout the process."
Gov. Jay Nixon was asked last week about whether there should be a vote on the public financing of the stadium even if it's not necessarily required by law. He said we've "always said that if votes were necessary, then those votes would occur. As we work toward the finalization of this, we'll look at it."
In a statement on Friday, Nixon said "because this plan would impose no new taxes and instead use funding that has already been approved by the voters, another public vote is not required.
"Last year, I asked Dave Peacock and Bob Blitz to develop a proposal that would leverage private dollars to protect taxpayers, revitalize a distressed area, create jobs and allow St. Louis to remain an NFL city," Nixon said. "I especially appreciate Bob and Dave's work to identify a path forward that would impose no new burdens on taxpayers."
In a statement, St. Louis Mayor Francis Slay said City Counselor Winston Calvert "will vigorously defend the validity of our ordinance."
"Whatever the outcome, we will follow the law," Slay said.
During an interview earlier this week, Jeff Rainford – who is serving as Slay's consultant on the stadium project – said it may not be practical to have a public vote on the stadium when there's a constricted timeline about the Rams' future in the NFL.
Rainford, Slay's former chief of staff, went onto say if sales tax or use tax increase is used for the stadium, then there would a vote no matter what. But John Ammann – who had threatened a lawsuit earlier this week to get clarity on the issue – said the ordinance was clear.
"If the city streets department is working on [plans] to vacate public streets so it can be used for the new stadium, if the Board of Public Service is working on relocating city easements so that the stadium can be built, if any of that assistance and the losses direct or indirect (are) being provided, then we need to have the public vote and the public hearing right now," Ammann said.