Blues mark Winter Classic victories over Chicago and Mother Nature
It was a celebration of hockey between two rivals and a chess match with Mother Nature.
The St. Louis Blues won both.
They knocked off the Chicago Blackhawks 4-1 in front of more than 46,000 fans in the National Hockey League's Winter Classic at Busch Stadium.
The game marked the first time the Blues played at the home of baseball's Cardinals, but the start was in doubt in the hours leading to the puck drop.
A gamble by the NHL to keep the contest on its original schedule paid off. Despite some light rain, there were no delays and Blues' captain Alex Pietrangelo says the ice held up for most of the game.
"Didn't really feel all that different from normal," he told reporters.
"A few bumps here and there, but overall, I think it was good enough. A lot of guys were able it make plays and no complaints."
That assessment was shared by Blues Head Coach Ken Hitchcock.
"It was way better than anybody thought," he said during a post-game news conference.
He was also impressed by by the baseball stadium atmosphere in front of the sellout crowd.
"It's just almost overwhelming to look around," Hitchcock said.
"I could hear what everybody was saying to us as we were coming on and off the ice. And it will be really interesting if you didn't have a good baseball team here. But it's an amazing atmosphere because the people are right there with you."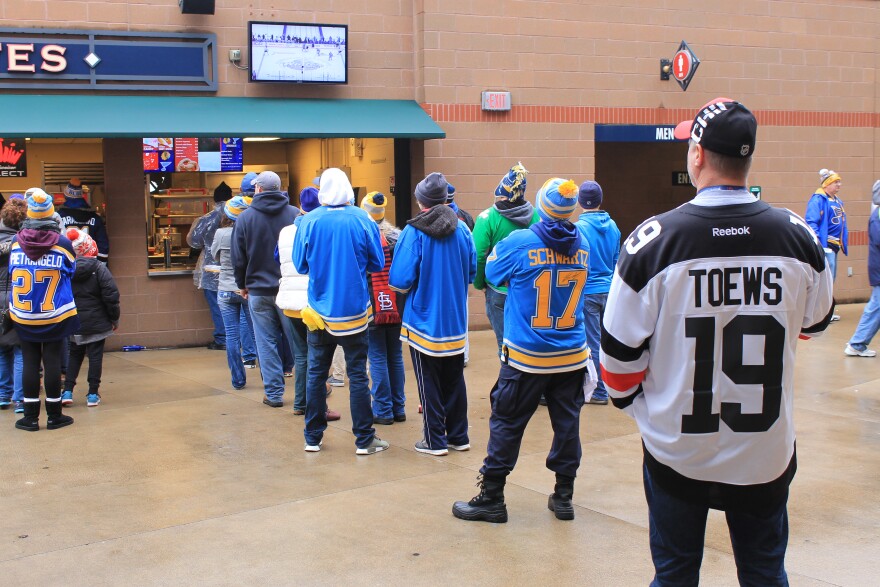 The Winter Classic wraps up several days of hockey-related events in downtown St. Louis over the New Year's Day holiday period. The activity marked the Blues 50th anniversary and helped push the sport into the forefront of a sports market dominated by the Cardinals, even during baseball's off-season.
It should also help with the Blues ""Hockey STL 2020" initiative, which is designed to grow the game by 70 percent in the region by 2020.
The effort was launched in late 2015 and calls for a $2 million commitment to introduce the game to more than 25,000 children per year and to develop roughly 5,000 new players.
The team also wants to build a $35 million practice facility in Maryland Heights. If all goes according to plan, it could open next year.
Other developers are planning a multi-million dollar ice rink complex as part of a 44-acre project in the Chesterfield Valley.
And in another sign of the sport's hold on the region as the Blues enter another half-century, three St. Louis-area players are on Team USA at the World Junior Hockey Championship underway in Canada.
Follow Wayne on Twitter: @WayneRadio