Compromise On Private School Transfers May Be Out Of Reach, Lawmakers Say
With a veto of the school transfer bill all but certain, Missouri lawmakers who worked on the wide-ranging legislation say they hoped a compromise could still be reached on the question of using public money to pay tuition at nonsectarian private schools.
But they acknowledged that it won't be easy coming up with terms that will please Republicans and Democrats, urban, suburban and rural lawmakers — and Gov. Jay Nixon.
Speaking at a crowded forum Tuesday at Washington University's Brown School of Social Work, co-sponsored by Focus St. Louis, state Sen. Scott Sifton, D-Affton, and state Rep. Rick Stream, R-Kirkwood, noted that a lot of hours went into crafting the 135-page legislation that passed in the final week of the General Assembly's session.
When the state Supreme Court upheld the current transfer law last June — allowing students in unaccredited the Normandy and Riverview Gardens districts to transfer to nearby, accredited schools, with their home district paying for tuition and in some cases transportation — lawmakers began working on possible changes immediately.
"Across the aisle and throughout the region," Sifton said, "every member of the area's legislative delegation was determined to make sure the legislature's voice was going to be heard."
He added: "This is about as big a bill as we were ever going to work on."
Their main objective was to make sure every child had the choice of a high-quality school close to home. They also wanted to protect the budgets of sending districts and the class sizes of receiving districts.
"It would have been the easiest thing in the world for someone to come in and say, let's just revoke the transfer law," Sifton said. "No one did that."
Along the way, they added a number of other provisions — from accrediting individual schools and not just districts to making sure parents knew when their children's schools were struggling to sending in state assistance teams to help districts keep from sliding into unaccredited territory.
But the section that prompted the most debate — and drew the veto statement from Nixon — added the option of transferring to a non-sectarian private school for students in unaccredited districts.
Stream noted at Tuesday's forum that the House put additional restrictions on the Senate version of that choice. It added a required popular vote in a district before the private option could be used, up to three years of a district being unaccredited, and it put additional requirements on any private school that wanted to accept transfers.
"We pretty well watered it down to the point where we could get it through the House," Stream said.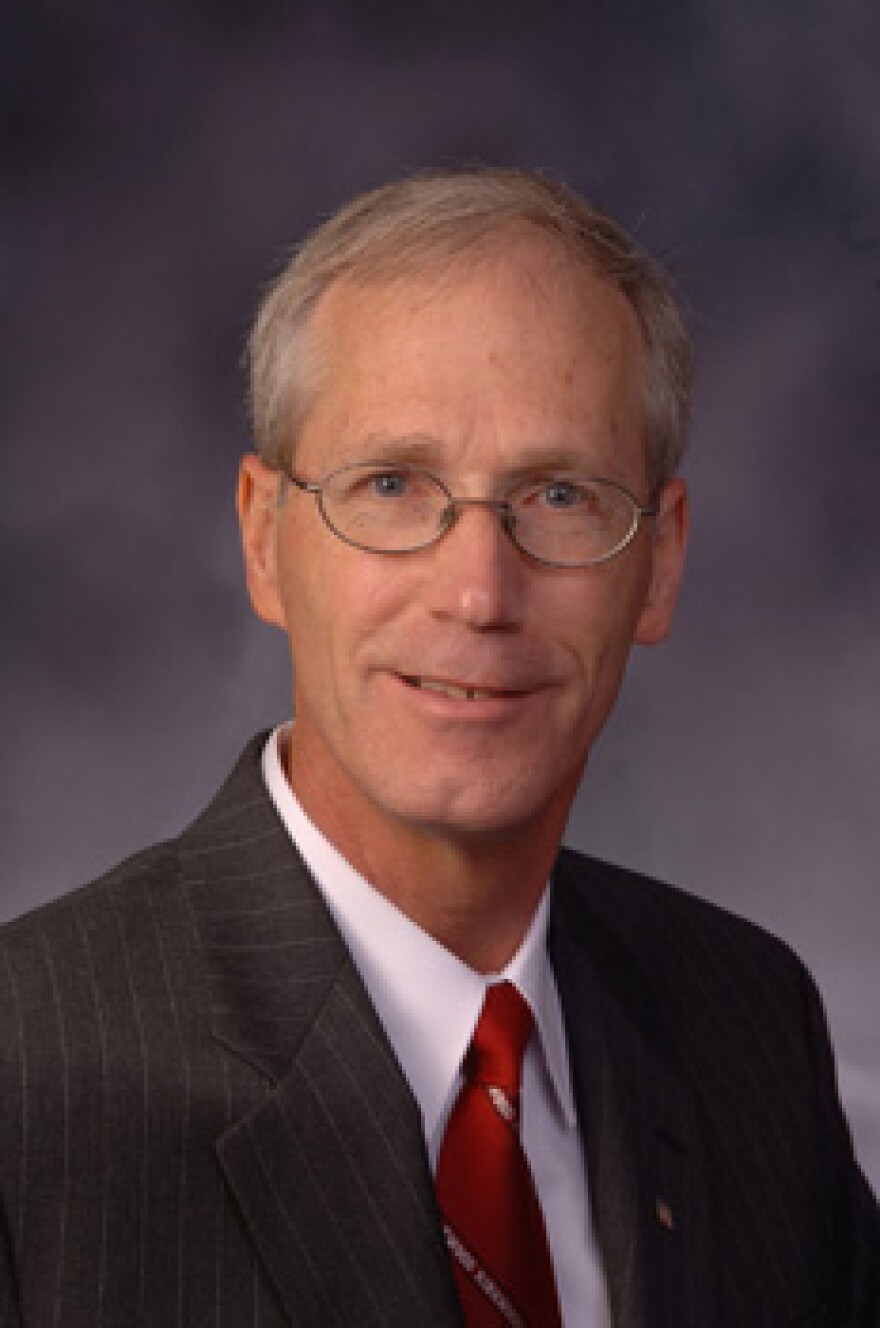 He also noted that tax dollars already go to private institutions in a variety of ways in Missouri, including for the education of blind and deaf children, so he did not see the private option for transfers as a total departure.
In the end, the compromise version of the bill passed the Senate 28-3 and the House 89-66 – a margin that is 20 votes short of what the House would need to override a Nixon veto.
Though the governor has not yet vetoed the bill, he clearly signaled that intention last month, saying:
"Throughout the legislative session I repeatedly made it clear that any effort to send public dollars to private schools through a voucher program would be met by my veto pen. The General Assembly ignored my warnings, and this veto will be the result."
What comes next?
Once the veto becomes official, lawmakers could try to override it in this fall's veto session, but that would come after the 2014-15 school year has begun. A special session called by Nixon is possible, but even if that happens, an override is far from certain.
"I don't see that the Senate would change the private option," Stream said, "and I'm not sure we would have enough votes. We're at a stalemate."
In interviews after the public session, both lawmakers said they hoped that common ground could be found to break the deadlock.
"I don't know whether the impasse on the private option can be amicably resolved or not," Sifton said. "It does seem to be that one permutation that could be explored would be the notion of going back to the House version of the election provision and in essence leaving the private option question in the hands of local voters, not just for three years but in perpetuity.
"I don't know whether that would be sufficient to resolve the governor's concerns with that provision. But it certainly would be one approach we could explore."
He added: "I remain concerned that we may not be capable of passing something into law that includes the private option. On the other hand, many legislators think we cannot pass something into law without it."
Stream noted that members of the state Senate from the St. Louis and Kansas City areas pushed hardest for the private option to be among the choices for students from unaccredited districts.
"They are representing these students in their districts," he said, "and they wanted those students and their parents to have this option. So that's why it was in the bill…. I think it's a good part of the bill that gives these options. But whether or not it stays in remains to be seen."
Until Nixon's veto message comes out, Stream added, he isn't sure what the governor might accept as part of a compromise on the issue.
"We could probably still go further on what the governor might want," he said. "But we don't know what he wants right now."
"It would be preferable, if he is going to veto a bill, to veto it right away and call a session," Stream said during the panel discussion. "We'd see if we could override the veto, and if not, what changes we could make so the governor could sign it."
The specter of more districts becoming unaccredited should be enough to make lawmakers throughout the state want to come up with changes in the transfer law that would be acceptable to everyone, both lawmakers said.
'We could probably still go further on what the governor might want. But we don't know what he wants right now.' — Rep. Rick Stream
Sifton noted that the latest version of the standards used by the state to judge school districts are stricter than those used in the past.
"This what happens when you have tougher standards," he said, "and I don't apologize for it. We need tough standards for our school performance. We need to expect the very best, and we need to act to remediate when that's not what we get."
Added Stream:
"There are some borderline districts right now that are provisionally accredited that could go over the line in the next year or two. I hope none will become unaccredited in the next school year. That will give the legislature another crack at this, to try to come up with a solution."
Strong schools, strong communities
The legislators, and other panelists, emphasized that keeping neighborhood schools strong is vital to helping communities remain strong as well.
"Seeing a community come apart is difficult," said Tiffany Anderson, superintendent of the Jennings school district, which is adjacent to Normandy. "It really is….
"At the end of the day, I truly believe it takes a strong community to help schools perform at a high level."
Chris Krehmeyer, whose Beyond Housing organization has worked to shore up the 24 municipalities whose residents attend Normandy schools, said the biggest goal for his group was making sure children have good schools near their homes, so they don't have to board buses to get a solid education.
He acknowledged that "historically, folks in our community weren't as engaged as they could have been or should have been" in keeping Normandy's schools strong. Beyond Housing helped take district residents to Jefferson City and elsewhere to press their case during the legislative session.
Having good schools and good neighborhoods "is not an either-or proposition," Krehmeyer said. "It's an and-both."
Kate Casas, state director of the Children's Education Alliance of Missouri, said that from the time the transfer law was upheld last June, members of the legislature have worked to try to make sure students have good options.
"Whatever you think of the General Assembly," she said, "it's not in the business of taking rights away from children. If they had only limited transfers, and not come up with other options for kids who couldn't transfer, that's what they would have been doing.
"With the negotiations, and the way this bill moved through the legislature, I wish everybody could have been there. Regardless of what you think of the eventual outcome, it really is the way you want your legislature to work."
Now, with one school year over and another not too far away, the transfer situation remains unsettled. The new Normandy school entity created by the state board of education last month takes effect July 1, but no one yet knows whether students living there will have the option to transfer elsewhere. Other questions about the new district remain unsettled as well.
"We're in chaos again," Krehmeyer said. "We're at June 3, and no one knows what is going to happen."