Missouri School Board Loosens Normandy Transfer Rules
(Updated at 3:46 p.m. with revised transfer policy)
JEFFERSON CITY – With its president acknowledging that an earlier vote was an overreaction, the Missouri state board of education reversed itself Tuesday and broadened the terms under which students living in Normandy may transfer to nearby accredited districts in the upcoming school year.
A vote in June said that students who did not attend Normandy schools in the 2012-13 school year – the year before transfers began – would no longer be eligible to transfer in the upcoming year. The move was a response to what some people said was an unfair action by some families who moved into Normandy after the transfer law was upheld by the Missouri Supreme Court in June 2013.
At the time, the Department of Elementary and Secondary Education said that restriction would affect about 130 students.
But Tuesday, in an action added to its agenda as an emergency item, the board reconsidered the earlier vote and removed the restriction. Because some of the affected students transferred to districts that are no longer accepting Normandy students, the move will help about 60 students, DESE said.
Both the reconsideration and the approval of the new motion were unanimous. The votes came after the board held a closed session in which it was discussing pending litigation.
Peter Herschend of Branson, president of the board, said the new vote was designed to remedy what he said was a decision made out of concern for the finances of the new Normandy Schools Collaborative, the state-monitored entity that replaced the Normandy school district on July 1.
Asked after the vote what prompted the reconsideration, Herschend said that a major consideration was financial, based on the information available at the time. New figures have changed the situation, he added.
"We thought that the district couldn't afford it," Herschend said. "We've now had another month of financial input, and nobody has money to throw around, but it looks like the district should be able to handle that financially."
More broadly, he said, the change in policy was "just what's right for those kids. They are going to better schools than Normandy. That's what transfer does. And we in retrospect looked back and said wait a minute, we've got to be fair to all the kids."
It was unclear whether a lawsuit challenging changes in the state's policy and other aspects of the transfer situation influenced the board's reconsideration. In the end, Herschend said, "We probably overreacted. We're OK. We've got the 60 where they belong now."
The news came as a relief to Connie Holtrop, who transferred her three sons to Ladue this past year. None of her children attended school in the Normandy School District during the 2012-13 school year, and prior to the board's decision, they were not eligible to transfer during the coming school year.
"I'm stunned and grateful beyond belief," Hotrop said. "I've been working like crazy trying to figure out options for trying to move my kids and myself into the Ladue School District. It's been hugely stressful. At the same time, I've been calling Normandy and working to get them enrolled there. So, to get this news is a complete godsend."
Holtrop had considered selling or renting her home, then finding a rental in the Ladue School District as quickly as she could. Two of her children need special services and she said keeping them in Ladue would provide continuity in their education.
"It's been a huge stress for my kids, too," Holtrop said. "Because they've know where they would go to school this coming school year was up in the air."
It's a relief, Holtrop said, to know that she will stay in the neighborhood she's lived in for the past 15 years.
"It's the biggest blessing ever to be able to stay in the home that we love," Holtrop said.
Other students dropped from transfer program
Earlier in the meeting, state education officials told the board that about two-thirds of the 1,000 students who transferred out of Normandy school during the last school year will not be going to nearby accredited districts in the upcoming year.
In a presentation to the state board of education, officials with the Department of Elementary and Secondary Education said that because four districts – Francis Howell, Ferguson-Florissant, Ritenour and Pattonville – have said they will no longer accept transfer students, the estimated number of students expected to leave Normandy has dropped to 328 from 945 last year. Normandy has about 4,000 students total.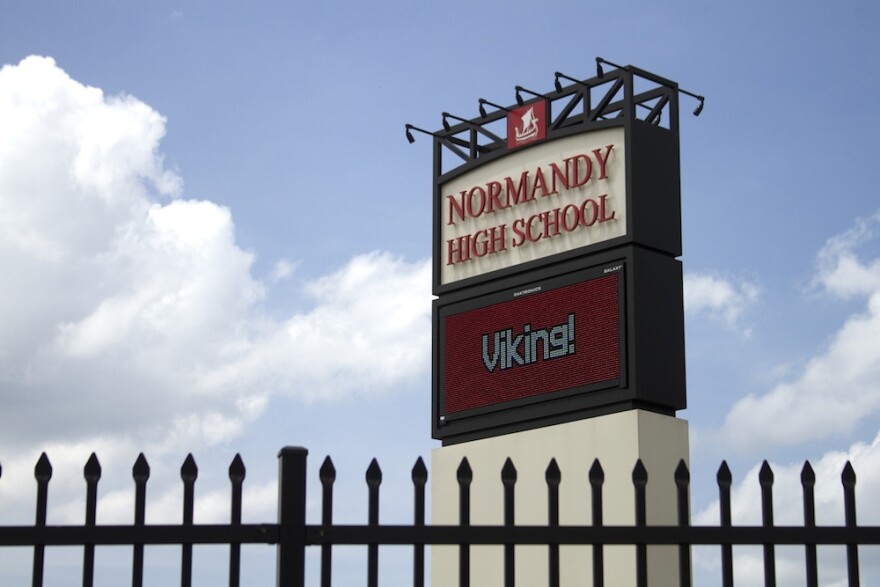 The new number was calculated based on districts that have said they would accept transfer students in the school year beginning next month. It was unclear how the 130 students declared ineligible to transfer because they did not attend Normandy schools in the 2012-13 school year figured into the total.
A fifth district, University City, had said that it would not accept Normandy transfers, but the board there voted last week to reverse that position. But it did not change an earlier decision to charge its full tuition for transfer students -- $12,413 for students in kindergarten through fifth grade, $13,283 for students in grades six through eight and $14,381 for high school students – rather than the rate of about $7,200 set by the state for the Normandy Schools Collaborative.
Asked what the difference will mean to families contemplating whether to send students to U. City in the upcoming school year, education Commissioner Chris Nicastro said in an interview after the board meeting that parents need to clarify the district's position.
"At this point," she said, "if they have said they'll take the students, I believe that they are well aware that that means that what we are paying is the tuition rate that has been established for the Normandy Schools Collaborative. So when those bills come in for those students whom they have accepted, then we will pay them according to that calculated amount that we have determined."
So what should parents do?
"I would be talking with University City," Nicastro said, "to clarify that my child, if they started school this year, would in fact be allowed to continue."
Kirkwood schools will accept Normandy students in the upcoming year, but officials there say they also will not accept the lower tuition amount.
The progress report to the state board included a wide range of actions – financial, educational, personnel – that have been taken since the Normandy Schools Collaborative became effective on July 1, replacing the old Normandy school district. The switch occurred after Normandy was driven to the brink of bankruptcy from the costs of tuition and transportation for transfer students.
As the district reported on Monday, about 80 percent of the staff that will be needed when classes begin on Aug. 18 has been hired. The district will be holding jobs fairs for prospective employees on Thursday and Saturday of this week.
Nicastro said that about half of the staff that worked in Normandy last year has been rehired by the collaborative. Asked whether she had had any estimate or quota in mind for how much of the staff should be new and how much should be those who worked in the old Normandy, Nicastro said:
"We simply established a set of guidelines and a set of expectations for what is expected of all new employees. The teachers who have been extended employment opportunities who were there before met those targets."
Actions since July 1
Deputy Commissioners Ron Lankford and Margie Vandeven updated board members on actions taken in Normandy since the beginning of July.
Lankford told the board that Normandy did not need the emergency money appropriated by the General Assembly last year when it appeared that the district may not be able to complete the school year. He projected that Normandy would end the upcoming school year with a fund balance of 9 percent; its balance was 17 percent before the transfers began last summer.
He noted that the savings that come from the sharply lower number of transfers will be partly offset by the additional staff needed because of the larger enrollment resulting from the students who return.
Both he and Vandeven emphasized that all the numbers, in terms of finances, enrollment and personnel, are still in flux and likely to change as the school year begins.
To get the additional staff that Normandy needs, Vandeven said it will be contacting area school districts to find out whether recently retired teachers might be available in the areas where they are still needed. Other options, such as electronic or distance learning, are also being considered, she said.
Nicastro said that the numbers of personnel are being watched closely.
"We will be staffing very conservatively," she said, "with the understanding that it's easier to add teachers later, particularly at the elementary level, than it would be go in the other direction."
On the topic of flipped classrooms – where lectures are recorded and available for students to view outside of class, so they can discuss the material with their teachers in school – board members wondered whether Normandy students would have the technology available to view the lectures.
Vandeven said that the district is collecting information about where online access is available and that schools can remain open after normal hours to accommodate student needs.
But board Vice President Mike Jones said education officials have to make sure that their learning techniques, like flipped learning, are grounded in reality.
"I think that a lot of the success of instructional strategies is going to be a function of the facts on the ground," Jones said.
He also expressed concern at the notion that Normandy's improvement in its state evaluation, where it got only 11.1 percent of the possible points last year, will depend largely on student progress rather than their absolute achievement. Progress is fine, he said, but it can't be enough.
"If you are running a 5.0 in the 40 (yard dash)," Jones said, "and you improve to 4.7, you're still too slow to be a quarterback. At some point, it is still about getting to the point that you have to get to."
With school starting on Aug. 18, two weeks after teachers report for intensive professional development, Jones wanted to know what plans Normandy and state officials have to make sure students show up for the first day of class and remain there afterward.
"If we don't have 100 percent," he asked, "what is planned? School is going to open the 18th. We're going to have everybody or we're not going to have everybody."
Vandeven responded that since the state took over the district, the emphasis has been on planning and making sure the district maintains high standards. As far as attendance goes, she said the district has been getting the word out about the start of school, but she acknowledged: "Right now, there's not an Option B."
The state board also decided not to take action on a request from the Kansas City schools for temporary provisional accreditation. In a statement, DESE said:
"There is not sufficient data available yet for KCPS to verify that they have earned provisional accreditation. Once the data are available, and the district is able to confirm that they have, in fact, earned such status, the Board will consider their request."
In contrast to state board meetings in recent months, which have been so crowded that they were moved to hotel facilities in Jefferson City and Columbia, Tuesday's meeting – where the open session lasted less than two hours, all devoted to Normandy – had a sparse crowd of about 20, not counting employees of the Department of Elementary and Secondary Education.
The appointed Joint Executive Governing Board for Normandy meets at 6 p.m. on Wednesday, where a detailed budget and other information is expected to be presented.
Tim Lloyd contributed information to this story.