Normandy Teacher To DESE: We Need More Help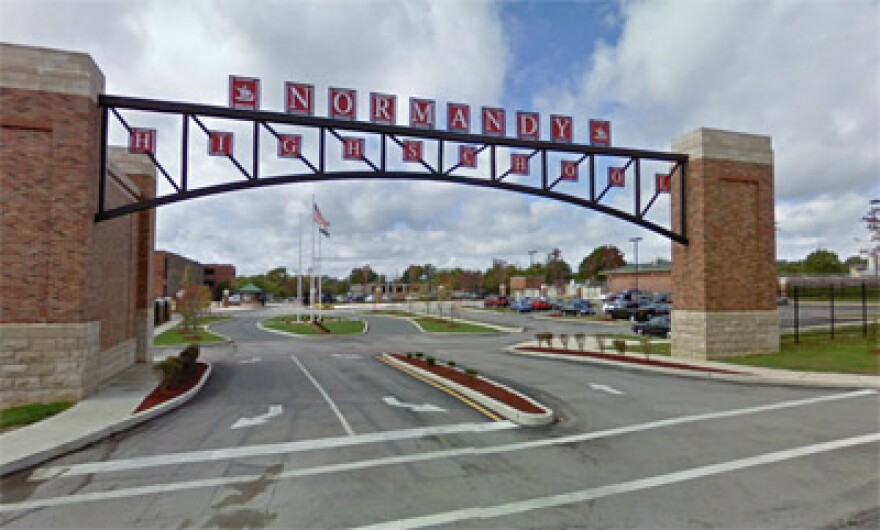 The new Normandy Schools Collaborative has completed one quarter of its first academic year, but if the experience of one teacher is any indication, conditions in the beleaguered district have not gotten any better under the control of a state-appointed board.
In a recent, wide-ranging interview, this teacher – speaking on the condition that no information be given about the subject or the grade that the teacher is involved in, or even the teacher's gender – said that while the Department of Elementary and Secondary Education laid out expectations and policies during an intense two-week summer training session, involvement by personnel from DESE hasn't been obvious since classes began Aug. 18.
As a result, the teacher – let's use the androgynous name Pat – said nearly a dozen colleagues have resigned under the pressure of a heavy, intense workload, though in some cases new teachers were hired to take their place. Few substitutes are available to pick up the slack, class sizes have grown, honors classes are gone, some textbooks are in short supply and students who may have started the year behind academically have found roadblocks to catching up.
Parents are interested in their kids' progress, Pat said, but they don't always give the support that the students need. Meanwhile, teachers struggle to adjust to conditions that they did not expect and did not realize they were getting into, like regular long staff meetings at the end of draining school days.
"During one of the open houses," Pat said, "a teacher told me she made over 100 copies of something to give to parents. And she got seven parents. I'm not blaming the parents. I don't think she had a clear understanding of what we're up against in the district."
As far as support from Jefferson City goes, Pat said it often seems nonexistent.
"I'm curious about what changes DESE is claiming are taking place in this district," Pat said.
"If we were solving the problems, some of this stuff would not be happening right now. We would have teachers in classrooms. We would have alternative learning centers for students who are so far behind and cause disruptions in class that make it impossible for teachers to teach. That stuff would not be happening if they really wanted us to be successful. So why don't you want us to be successful?"
Pat's concern is that the demise of Normandy could become inevitable.
"You evidently have done everything you wanted to do," the teacher said. "You hired new teachers. You did all of these extensive things to pick for who you thought would be best for the job. And now it's like you just sent them in there, and that was it, hopefully they can get it done. My fear is that at the end of this academic school year, they'll say, well we tried. Normandy's not fixable. We tried.
"They didn't try. I don't think they're trying hard enough. If they wanted to try, some of this stuff we see every day would not be happening."
Those in charge respond
DESE did not make available anyone to discuss in detail such worries and more. Department spokeswoman Sarah Potter said in an email:
"The department wants Normandy to succeed or we would not have kept it open this school year despite great financial and academic obstacles. However, we can't do this alone. Normandy is a collaborative. This is not a state takeover but state oversight. The governing board and district leadership will work together to change Normandy. This situation did not develop overnight, and it will not be solved overnight."
In an interview, Charles Pearson, a retired educator who heads Normandy's state-appointed Joint Executive Governing Board, said that the collaboration between the state and the district is working, and the relationship is improving all the time.
"For the first time ever, DESE is actually at the table and on the ground on a regular basis in the district. From the beginning, personnel from DESE were designated to work collaboratively with the administration. DESE people facilitated the professional development. DESE has definitely been there, doing the first-level monitoring that they said they were going to do.
At a recent public form, Pearson asked parents and others in the audience whether the school year in Normandy is going better than it did last year. When the answer from the crowd at Lucas Crossing Elementary School was a resounding no, Pearson looked like he was taken aback. But, he said in the interview, it wasn't shock he was showing but a reaction he hoped would indicate he was giving the reaction serious thought.
"All of the board had been hearing from different factions about the challenges that were going on in the district," he said. "So in a public forum like that, I knew I would hear about the issues and challenges that people were facing. I was impressed. If I looked shocked, it wasn't shock. It just got substantiated from what people were telling me that things were not going well."
Pearson also said that now that the district has the results of 10 weeks of classwork to consider, he hopes teachers and others will have a clearer idea of what is needed to boost student achievement that has been stubbornly low.
But Pat, the unidentified teacher, said DESE and the district aren't doing much to make their already tough assignment any easier. And for teachers, whether they are new to Normandy or teachers who returned to the district when their contracts lapsed June 30, life in the classroom is a daily struggle.
"It seems like they don't want Normandy to succeed. The question I have to ask is why." -- An unidentified Normandy teacher, asking why DESE isn't doing more to help the district
"A lot of the new staff did not understand what they would be getting into," Pat said. "I don't think they had a clear understanding of some of the struggles that they would be facing, and some of the struggles that our students face every day. I'm not sure that they came prepared. I'm not blaming them by any means. I'm just not sure that they received proper notice or did the proper research. I'm not sure where the fault was.
"I was prepared, mostly because I knew what I was getting into. I wanted specifically to work in a district that had a lot of need for people who were passionate about education. That's how I ended up in Normandy. I knew it was going to be hard. I knew that there was going to be a lot of struggles I would be up against. I knew what I was getting myself into, but then again I didn't, because you never know until you're really in there, seeing it. I was mentally a little prepared, but still not prepared as I could be."
For teachers who couldn't take it anymore, the threat always exists that the district could go after their Missouri certification for breaking a contract. A resignation policy to clarify the issue had been headed for approval by the governing board at its meeting Thursday night, but it was pulled. Pearson said the board wants to make sure it deals with each teacher on an individual basis.
Only the state school board has the power to revoke certification, and Potter said it would act on recommendations made by the Normandy board. She originally said teachers would not have to worry about that prospect, but she later amended her statement to say that on the recommendation of the Normandy board, the state board "could decide to pull certifications in the future, if that becomes an issue for the district."
At its meeting Thursday night, the board heard a proposal to outsource the hiring of substitute teachers to an educational subsidiary of Kelly Services, but after members asked several questions, the issue was withdrawn until the contract could be clarified, then brought back for further discussion.
Pearson, a retired educator, said he knows that finding good substitutes can be difficult.
"As a former principal, subs are a huge part of the culture," he said in an interview. "I saw subs in my other building. Some said I love this school. Others said I wouldn't do this for anybody. But finding those who loved it, the culture was great. I want the same thing, no matter who it is, when they come in here.
Superintendent Ty McNichols said some of the district's regular teachers are also having problems, such as controlling their students so learning can go on. He noted that 48 percent of the district's teachers are new to Normandy, and the problem of classroom management could have been addressed earlier.
"So there are different things we're trying to do," he said. "In hindsight, if we had started over, we would have put a lot of those things in the first two weeks of professional development, but it didn't happen that way, so we're doing a restart, as we call it."
Students are traumatized
Pat said that the biggest concern faced by teachers is that Normandy students who already have been buffeted by the situation around their district, plus the events in Ferguson, will not find the help they need.
"They're traumatized," the teacher said. "A lot of our students are truly traumatized that they think their school is closing. It's not closing. Their friends transferred. Their friends came back. Their friends are going back. Their teachers they love so much are gone. They're just going through so much trauma at such a young age, along with their personal family situations for some of them.
"I just think they're traumatized and they're not really sure how to work through all the things that they're feeling." -- The unidentified teacher on Normandy students
As far as the aftermath of the killing of Michael Brown in Ferguson on Aug. 9, Pat said:
"It definitely has had an effect on our students. Maybe not in an obvious way, but more of a subtle way. Some students live near Ferguson or visit there, or have family there, so they understand, but getting all this attention all at once is overwhelming for some students. Also, the message that has been relayed through all of this is black lives matter. So they're thinking to themselves, 'Well, I'm black. I go to this school. I could have been this young man. Does my life matter?'
"Sometimes they may not have had an appropriate outlet to ask those questions, because when you do ask them, you'd be surprised by some of the conversations that arise just by showing them that you care and that you're interested in what is happening, giving them that opportunity to speak without somebody saying nope, you're wrong. Just giving them a chance to talk, just be children who have thoughts."
For students whose behavior crosses the line, Pat said the district needs more options besides after-school suspension, which has to be "hosted" by already-overburdened teachers, or out-of-school suspension, which hardly seems to be a punishment for many students.
"That's proven not to be good for kids," Pat said. "We want them in school as much as possible. There are other ways to discipline them so that they receive a consequence. But that seems to me to be a vicious cycle – they get suspended, so they're out of school. They miss work, then they come back and they don't know what's going on. They get suspended, they miss school, they come back, they don't know what's going on."
Do parents care? Pat said yes, for the most part, but they can be as stymied as teachers about the best way to proceed.
"The ones I communicated with are very supportive," Pat said. "How's my child doing? I don't want to say it's rare, but if you reach out to a parent, more often than not, you'll get a chance to communicate with them. Some of them are at a loss about what to do as well. Some of them feel like, well, I've been trying for X amount of years, I've been hearing the same thing for X amount of years, I don't know what to do. So now what?
"A parent doesn't know what to do. I'm having the same problems in my class. I don't know what to do. The only option is to send them home for five days? There's got to be another way."
Getting the word out
Given the uncertainty and the tension in the district, why come forward to talk about Normandy's problems? Pat said it was time the public understood what teachers and others in the district are facing every day.
"I really wanted to talk to you," Pat said, "to give everybody else who seems to have so many opinions about what's happening over here a dose of reality about what we're up against. And also to highlight some of the problems and issues that we're facing in regards to DESE, because I thought they were going to be there, and I haven't seen them.
"Where are you? If you aren't coming, why aren't you coming? If you don't care, why don't you care? That's my biggest question. If you actually wanted to see us succeed, things would not be the way they are, so why don't you want us to be successful?"
"My personality is that I've never quit anything in my life, so there's no way I'm going to let these children get to me." -- The unidentified teacher
Will that kind of tough task drive Pat from the classroom? Not a chance.
"I would never leave," the teacher said, "because of my students. They're actually the reason that I've stayed so long, because I love them so much. But I don't feel like I'm always growing professionally as a teacher, and I don't always feel like I'm becoming a better teacher. That's my goal, right? Every year, I'm going to learn something new and I'm going to become a better teacher so I can teach anybody. But right now I feel like I'm stuck in this place where I know how to teach this lesson and I know how to fill out a lesson plan to make somebody happy, but am I becoming a better teacher?"
"My personality is that I've never quit anything in my life, so there's no way I'm going to let these children get to me."