With interim superintendent now permanent, Normandy plans more changes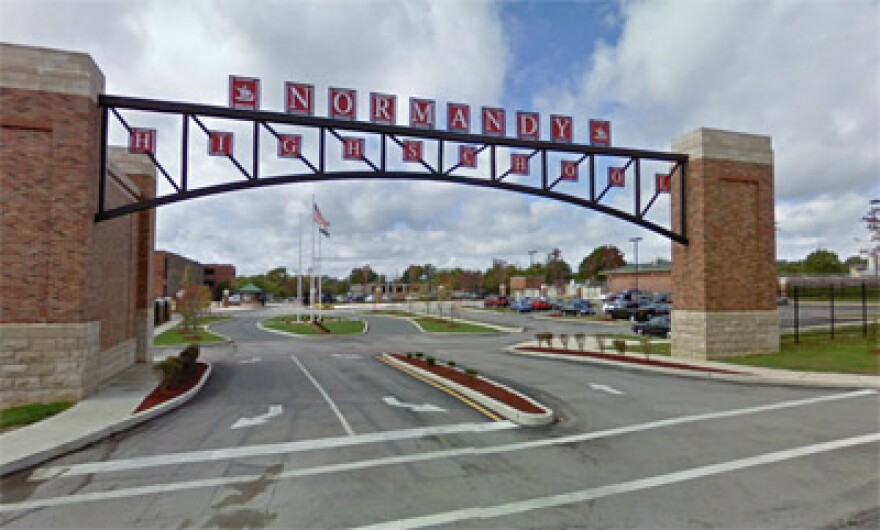 After conducting a nationwide search, the Normandy school district announced Thursday night that it was naming interim superintendent Charles Pearson to the position permanently, effective immediately.
"We were confident in Dr. Pearson's abilities when we hired him as the interim superintendent in January," said Robert Ryffel, who led the search for the Joint Executive Governing Board. "And a national search confirmed our belief that he is the best candidate to continue to lead the Normandy Schools Collaborative during this critical time."
Pearson will complete the current school year with his current salary of $150,000 a year; his new contract begins July 1, with his salary still being negotiated.
In the statement released by the district announcing his appointment, Pearson expressed his gratitude for the board's confidence in him.
"During my time as Interim Superintendent, I've learned to appreciate the hard work of our administrators and staff," Pearson said. "I do not take this appointment for granted. As a matter of fact, I am more committed than ever to ensure that the 3,500 students who come to school each day in the Normandy Schools Collaborative will receive the necessary resources to succeed inside the classroom and to become productive citizens in society. We have some serious work to do and that work has already started."
Pearson had been head of Normandy's appointed board when he stepped down from that position in January to succeed Ty McNichols as superintendent. McNichols, who had been in the job for a little more than 18 months, resigned after the board had decided to get applications for his job.
After hiring a Chicago-based search firm for $25,000 to look nationwide for a superintendent, 17 finalists were named from a field of 68 applicants. After reviewing the pool of possible replacements, the search firm recommended hiring Pearson as the permanent superintendent.
In its recommendation, the district said the firm cited Pearson's experience, training and track record.
Pearson began his career in the Normandy schools more than 30 years ago and has also worked in the Clayton and Maplewood-Richmond Heights school districts. Since 2008, he has worked as an instructional leadership consultant.
Structure and survival
The announcement of Pearson's appointment came after he had told the board in its public meeting that he expects Normandy to be able to survive the next year financially – with a little help from superintendents in nearby districts.
A budget proposal presented to the appointed board of the Normandy Schools Collaborative Thursday night projected that 544 students would be transferring to accredited districts in the next school year. That is above the 530 students that state officials have said could force the district to go broke from the costs of tuition and transportation.
But Pearson said he plans to work with superintendents from other districts to see how they might be able to ease the district's budget problems, by providing instructional and other kinds of help.
He said he couldn't name which districts he hopes will come to Normandy's aid, because the boards in those districts would have to sign off on such plans. But, he said, he is committed to moving as many dollars as possible out of administration and other support services, and into Normandy classrooms.
"We were into a survival budget," Pearson said after the meeting of Normandy's appointed board. "And from that survival budget, we're now trying to reshift into more of an instructional budget. Because it was candidly about can we keep our doors open before. Now, we're saying we're going to keep the doors open, but keeping the doors open without really delivering strong instruction is not good enough."
He also said that Normandy's board is committed to not starting the school year in August if it can't be sure to keep its schools open all year.
Much of Thursday night's meeting was taken up with Pearson's restructuring plan that was revealed earlier this week. He wants to take sixth graders out of Normandy Middle School and put them into the district's elementary school with the hope that the move improves their academic achievement. He also floated the idea of taking kindergarten students out of the elementary school and putting them in their own center, in the now-shuttered Bel-Nor school.
But one feature of his plan, hiring seven instructional coaches to help at all levels in the district, was shelved by the board when questions arose about the program's cost and effectiveness.
Pearson said he would make another try at getting the coaches, but he said that that one feature of his plan is not more important than his overall goal.
"We have been working the budget and working the budget in case we had to do what we needed to do to survive," he said. "If it means we end up not getting the coaches. If it means we end up not being able to do some of those kinds of things to make it, we can do that. We are just trying to push the level of instruction up."
Pearson said that the main purpose of his plan is to improve academic achievement.
"We want to provide a grade configuration that will provide more nurturing, with fewer transitions for students," he said. "It is important that both things occur if we want to move forward."
Noting challenges with middle schools students in general and those in Normandy in particular, he added:
"We have the opportunity to do some amazing things, but this particular age group needs something different. The seventh and eighth grade center needs to be a different kind of place, with a different kind of focus."
Pearson said that because Normandy will be able to hire from a better group of prospective teachers than it could last year, he expects advanced placement classes to return because the district will be able to find the teachers to conduct them.
A preliminary budget for the coming school year showed that the district would start July 1 with a fund balance of $5 million, or $1,250 per student; that's far below the average of $3,450 per student for other St. Louis County districts.
"It's enough to start the year with," said Mick Willis, assistant superintendent of operations. "It's certainly not zero. But we have a long way to go."
He said the costs for tuition and transportation for transfer students would total $7.5 million, compared with the current year's $5.8 million for 424 transfer students. That's an average tuition of $12,850 per student.
To improve instruction, Willis said the district had identified $2.6 million that could be shifted from administrative services to the classroom.
The board took no action on Pearson's restructuring plan; it is scheduled to meet again in late May.
In public comments before Pearson's presentation of the plan, questions were raised about the kindergarten center and the new structure in general.
Dryver Henderson, a frequent critic of the district, asked why kindergarten students should be taken out of their neighborhood schools and bused to a central location. "We need kids closer to home," he said.
And Robert Miller, who also often questions moves by Normandy's board and administration, questioned research behind Pearson's proposals.
"This is not right," he said. "This is not right. You're just kicking the can down the road."