Riverview Gardens accreditation status raises questions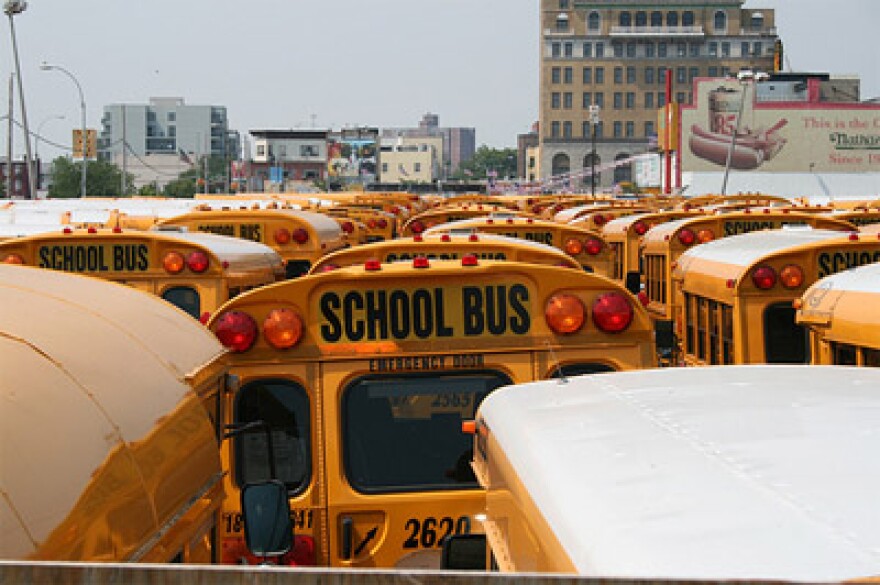 JEFFERSON CITY – The Missouri state board of education unanimously approved on Tuesday a framework for an accelerated review of the accreditation status of the Riverview Gardens School District.
But a key question that hangs over the whole process remains unsettled: What happens to students who have transferred from the district under state law if its status is upgraded?
State board members and Riverview Gardens Superintendent Scott Spurgeon agreed that the solution needs to be broad-based, to benefit not only those students who have left — now about 540 — but also those who have stayed. And it has to be voluntary, because at this point the board and the Department of Elementary and Secondary Education have no legal authority to impose an answer.
"If that's going to get worked out in an equitable manner for the benefit of children, all those children," board member Mike Jones said in an interview after debate on the issue, "it's going to have to be done by people in St. Louis, and that just becomes a moral issue, because it's not a legal issue."
Board member Peter Herschend of Branson described the situation this way:
"This is working in a sea of Jell-O. There is no precedent."
Riverview Gardens has been unaccredited since 2007. The students who transferred to other districts did so after the Missouri Supreme Court upheld the transfer law in 2013. Riverview Gardens has shown dramatic improvement in its annual state report card over the past two years, and it wants the state board to reward that progress with an upgrade to provisional accreditation.
At its meeting last month, the board declined, saying it wants to see more sustained upward momentum. But recognizing the special circumstance of an unaccredited district and the fact that student test scores for the current school year normally would not be available until after the 2016-17 school year begins, the board asked state education officials to come up with a plan for an accelerated review when the current school year ends.
Assistant Education Commissioner Chris Neale told the board that waiting until December, when districts' accreditation status is typically reviewed, would impose an unnecessary hardship in the middle of the school year.
"A mid-year decision destabilizes or at least impairs planning on the part of districts and more importantly on the part of students and their families," Neale said.
The board approved what Neale called a rigorous review plan. It calls for close analysis of a variety of factors, from finances to curriculum to teaching to student achievement, and imposes specific goals that the district should achieve to earn provisional status.
If Riverview Gardens wins an upgrade, Normandy would be the only unaccredited district in Missouri.
Morality, not just education
But beyond those numbers lies the question that Jones and others said is one of morality, not strictly education.
"From the board's standpoint," Jones said during debate on the issue, "we just need to be a little bit more honest and forceful. The reason we're going through this is that we created a situation in Missouri. We have this dilemma that's unresolvable between balancing the equity interest of children who leave and children who stay.
"We have to make a decision for the most students that doesn't necessarily mean there won't be collateral damage to other students. But that damage can be mitigated by the actions of other people. We can't let anyone else off the hook on this."
Spurgeon told the board that the tuition and transportation payments Riverview Gardens has had to make since the transfer program began amounts to $25 million – money that his district has not had available to make improvements for the students who have decided to stay.
This is working in a sea of Jell-O. There is no precedent. — State school board member Peter Herschend
He acknowledged the wishes of parents of transfer students who want their children to still be able to attend class elsewhere. But, he added, progress made since he became superintendent since 2013 needs to be recognized.
"My general feeling is that we are in a much better place educationally, and with community and parents, than we were three years ago," Spurgeon told the board. "Do we have issues? Do we have negativity? Do we have parents and students who have had negative experiences? Absolutely. But generally speaking, I couldn't be more proud than I am today."
In an interview after the meeting, he echoed Jones' views about the breadth of any solution to the question of transfer students' future.
"I think all children should be fully considered as we move forward to the potentially provisionally accredited district," Spurgeon said, "because there are 5,450 students in Riverview Gardens and there are also about 540 students that are on transfer. As I've said from the very beginning and I'll continue to say, It's our job to make sure that we that we take care of all children and do what's best for each individual child.
"I think it's not only a decision for Riverview Gardens but it's also a decision for the receiving districts, if we become a provisionally accredited district, for them to work with us in collaboration to ensure that we do what's best for children."
Board Vice President Vic Lenz of south St. Louis County said he had toured schools in the district and been impressed with the progress made there. But, he said, that improvement could be endangered if Riverview Gardens has to continue spending money for transfer tuition.
"There are a lot of building improvements that are not taking place because they don't have the money right now," Lenz said. "The idea of taking money away from a district and telling them to improve, there's something really wrong with that concept."
No change for St. Louis
After approving the accelerated review scheduled for Riverview Gardens, the board took up a request for a rehearing from St. Louis Public Schools for its accreditation status.
Like Riverview Gardens, St. Louis has shown solid improvement in recent years and was firmly in full accreditation range in its latest report card. The board deferred action last month on the district's request for an upgrade to full accreditation from its current provisional status, saying it wanted to see more sustained progress. But the district sought a rehearing, which was granted automatically under the board's rules.
At the beginning of the discussion, board member Joe Driskill of Jefferson City asked what he said is a logical question: Why grant Riverview Gardens an expedited review but not St. Louis?
The answer, basically, was that while a change from unaccredited to provisionally accredited carries serious consequences for transfer students, a change from provisionally accreditation to full accreditation does not, so the urgency is not there for St. Louis.
Still, board members praised the movement of the city schools under its Special Administrative Board and Superintendent Kelvin Adams, who was hired by the appointed board in 2008. Jones said no one could have predicted how far the district would come so quickly when the SAB took over.
He said the St. Louis schools were a good example of the importance of a factor that often is overlooked in school turnarounds — leadership in governance.
"I don't think we've given enough attention or recognition to the work of the SAB in giving the foundational leadership to make it possible for that organization to be where it is today," Jones said.
"Before you get a great coach and great players, you have to get an owner who wants to be a champion. The SAB in St. Louis is the ownership."