Push for new NFL stadium in St. Louis is at critical juncture
There are few fans in St. Louis quite like Ram Man.
Ram Man — whose real name is Karl Sides — wears a hat molded in the shape of a snarling beast with spiraling horns. His jersey is adorned with patches celebrating the St. Louis Rams' achievements. And his unique admiration was worthy of the Pro Football Hall of Fame. But it will take more than extraordinary fan loyalty to keep an NFL team in St. Louis.
After months of twists, turns, legal fights, legislative threats and, more recently, watchable football, the Rams' future in St. Louis could be hitting a critical juncture. Local and state politicians could make consequential decisions on funding a new stadium, while NFL owners may soon vote on whether the Rams, the San Diego Chargers or the Oakland Raiders will venture off to the Los Angeles area.
Here's a look at what's ahead — and what's in the way — in this meandering stadium scramble. What happens in aldermanic chambers and within the minds of NFL owners over the next few weeks could prove crucial in determining pro football's future in St. Louis.
What does the Board of Aldermen have to do next?
The stadium proposal is essentially a public-private partnership. About $610 million in non-public dollars would come from the owner of a NFL team, the NFL and personal seat licenses. The rest — roughly $390 million — would come from the state and the city of St. Louis.
As we'll explain later, there probably won't be any legislative action to approve state bonds to fund the stadium. But the St. Louis Board of Aldermen will need to sign off on the city's portion. Among other things, the bill under consideration calls on St. Louis to pay off $70 million of city-issued bonds. It also calls for using a recently signed naming rights deal as collateral for the Regional Sports and Convention Complex Authority to issue bonds, and for that money to paid back with a percentage of "game day" related taxes. (Click here to read more about the plan.)
Will the board pass the bill?
While it's always hard to predict the trajectory of legislation, there is probably a pathway to snag the 15 votes needed to pass the stadium bill.
Most of the 29 votes in the board (the aldermen and the board president) are generally allied with St. Louis Mayor Francis Slay, who is a strong supporter of building the stadium. And it's likely that organized labor groups will be pushing hard for a "yes" vote, which could sway some aldermen who are friendly with unions.
But even the two sponsors of the bill, Aldermen Tammika Hubbard, D-5th Ward, and Jack Coatar, D-7th Ward, don't expect their measure to get a rubber stamp — especially in the Ways and Means Committee. That committee has five members who will probably be very skeptical of stadium funding: Aldermen Antonio French, D-21st Ward; Chris Carter, D-27th Ward; Sam Moore, D-4th Ward; Terry Kennedy, D-18th Ward, and Scott Ogilvie, D-24th Ward.
(French has threatened to use every parliamentary maneuver possible to slow down the bill if Slay didn't produce a "comprehensive plan" to fight crime. Since he made those comments on the Board of Aldermen floor, French and others have met with the mayor's office on that topic.)
For the bill to pass out of committee, at least two or three of those five aforementioned aldermen will need to either vote for the legislation in committee — or not vote at all. And since Board of Aldermen President Lewis Reed can vote in any committee, he could hypothetically break a tie.
Could stadium funding still be put up for a public vote?
It's possible, but definitely not a sure thing.
First a little background: Earlier this year, a judge struck down an ordinance requiring a citywide vote to authorize any sort of aid to stadiums. After that decision came down, Alderman Megan Green, D-15th Ward, put forward legislation to allow a citywide vote for the riverfront stadium project. It has five co-sponsors, including Alderman Christine Ingrassia.
"The reason we introduced the bill when we did is because I guess we felt like there was this false sense of urgency and a timeline that we were being told didn't allow us to put this to a vote," said Ingrassia, a 6th Ward Democrat. "And we came back into session in September expecting a financial plan. We met with Dave Peacock expecting a financial plan. And here we are sitting at the end of October having originally been told that they ideally wanted to pass something by Oct. 7 — and still had no plan until [last Friday when the bill was introduced]."
Green's bill hasn't received a hearing yet. And even if it got out of committee and passed the Board of Aldermen, Slay could veto the measure. But that doesn't mean the legislation is meaningless. If Green's bill makes it to the floor and receives more than 15 votes, it could showcase dissatisfaction within the board toward Hubbard and Coatar's legislation.
Is there any chance St. Louis County could contribute to the stadium?
At this point, probably not.
What happened is not as cut-and-dried as saying the county "bowed out" of the funding equation: St. Louis County was initially set to contribute to stadium financing package when it was unveiled in January. And while St. Louis County Executive Steve Stenger was not necessarily against St. Louis County contributing to the project, he was adamant that county residents vote on the matter — especially given a charter amendment.
"The state of the law in the county is that we have a charter amendment," Stenger said on Tuesday. "And that's the law. That's the charter. That has to be respected. And I think the vote of the people, as a principled matter, has to be respected. And I think that if we're going to move forward, it needs to be with a vote of the people."
Missouri Gov. Jay Nixon's administration took the county out of the equation earlier this spring. While emphasizing he "can't answer what was in the governor's mind," Stenger added: "It very well could be that the governor believed that a public vote was necessary in the county, and that from that perspective the timing would have been affected to such an extent that it would have jeopardized the deal."
The only way the county could contribute would be for Nixon and the task force to reverse course and provide an opportunity for a countywide vote. That's not likely to happen now.
So if the board passes its bill, does the stadium get built?
No. And the reason is pretty simple: The stadium agreement is, among other things, contingent on a NFL team agreeing to a 30-year lease and for that team and the NFL to provide funding for the project.
So in other words, if a team doesn't agree to play in the proposed stadium, it doesn't get built.
Do the St. Louis Rams even want to be here?
The only person who knows for sure is Stan Kroenke, a billionaire businessman who took over controlling interest in the team about five years ago. He's said pretty much nothing about his intentions to the media: When St. Louis Post-Dispatch reporter David Hunn tried to talk to him earlier this year, he "chuckled, but declined to comment." 
(This writer is a very optimistic person: So if Kroenke is reading this article and is willing to chat, he can send me an e-mail or a direct message on Twitter.)
In any case, the fact that Kroenke unveiled a stadium plan in Inglewood, Calif., prompted many to assume that he'll soon apply for relocation. The Oakland Raiders and the San Diego Chargers could also take similar steps soon. To actually move, a team would need the vote of three-fourths of the league's owners — which is not exactly a sure thing.
That vote is expected, as of now, to occur early next year, but none of the three teams has officially applied for relocation yet.
How will St. Louis' stadium proposal affect the owners' thinking?
NFL executive Eric Grubman says owners are looking for three big things from cities hoping to keep a NFL team: First, there has to be an actual stadium plan — and an avenue to fund the facility. And it also has to be attractive to a team.
Last month, while talking to reporters in St. Louis, Grubman said he understood fans' skepticism when a club is saying it's not interested in staying. But "the question is whether it's interesting to the rest of the 32. That's the purpose of a vote. To make that assessment on a 32-team basis, not on a one-team basis."
Members of the two-person stadium task force — Dave Peacock and Bob Blitz — are set to present St. Louis' stadium plan to a select group of NFL owners next week in New York. The two men said in a statement that they were gratified by "the invitation and look forward to walking through our plan and answering any questions the league and its owners may have.
"St. Louis is a spectacular NFL market, with loyal and passionate fans, yet our best days as a football town are still ahead of us with a new stadium anchoring a revitalized north downtown riverfront."
If owners reject Kroenke's bid to move, does that mean the new stadium gets built?
No.
As first noted by St. Louis Magazine's Ray Hartmann, Kroenke could simply have his team play in the Edward Jones Dome if his bid to move is voted down. After all, Kroenke may not want to invest a lot of his own money in a new stadium in a city that he wants to leave.
Grubman hammered this point home during his recent appearance in St. Louis.
"The Rams are not required by [the owners' vote] to sign some lease in St. Louis," Gruman said. "In your hypothetical, I actually don't know what happens if a proposal is voted down. I don't know what Mr. Kroenke and the Rams would do relative to the proposal that's on the table."
What's the status of the state's funding for the stadium?
For one thing, the task force has successfully applied for a number of tax credits that could be used to help fund the stadium. But most of the state funding will probably come from roughly $151 million in bonds paid off over the next few decades. (With interest, the state would be on the hook for about $400 million for more than three decades.)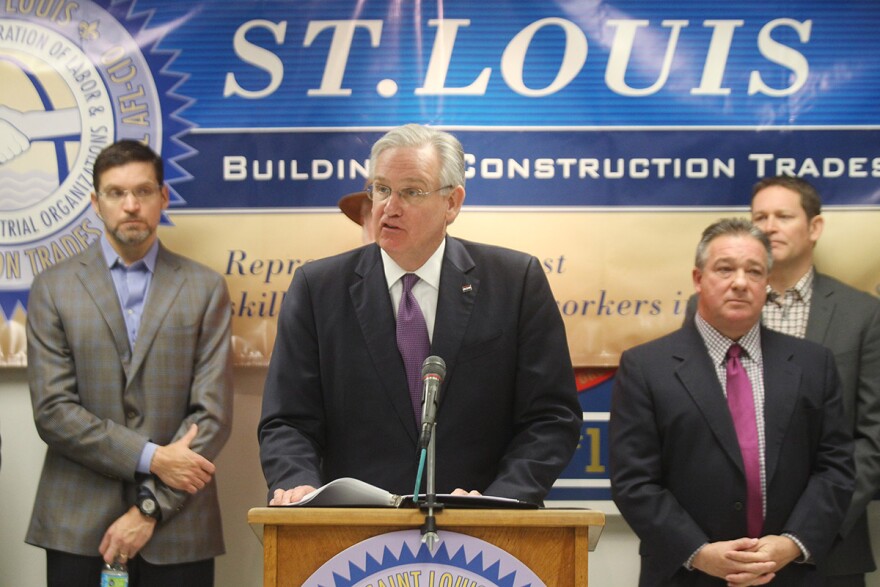 And it's looking increasingly likely that if a NFL team agrees to a financing plan, Nixon's administration will issue state bonds without a legislative or statewide vote. That's sparked widespread alarm within the Missouri General Assembly – although the legislature didn't pass anything this session to stop Nixon from taking that kind of action. (There is a lawsuit on the subject, though, that's winding through the courts.)
As noted in an earlier article, it's not out of the question the next governor may have to decide whether to issue state bonds for the project. And many of the GOP gubernatorial contenders are downright hostile to the idea of issuing bonds without a statewide or legislative vote.
Will the legislature approve money to pay off the state bonds for the stadium?
As of now, more than 20 senators and some key House leaders have said they will not appropriate state tax dollars to pay off bonds that aren't first approved by a legislative or statewide vote. If those lawmakers stick to their guns, those appropriations will not make it through the budget process.
That doesn't necessarily mean that the stadium doesn't get built. If investors still buy up the bonds despite the legislative threats of not paying them off, the cash will be there to build the stadium. But some political figures — such as Sen. Rob Schaaf, R-St. Joseph, and Lt. Gov. Peter Kinder — have openly questioned who would make such a purchase under those circumstances.
"The poor schmucks who put up the money will take it in the shorts by not having the state service the bonds. Because we're not going to do it," said Schaaf. "I mean, I told them in advance: You'll be taking it in the shorts if you borrow the money and buy the bonds, so don't do it. But if the poor schmucks get convinced by people like Peacock that we're not going to follow through on our promise, then they'll still have the stadium. It will have been built already."
Whether the legislature would withhold stadium payments for more than 30 years is a big, open question. But it's almost certain that a refusal to appropriate would prompt a lot of complicated litigation.
Would withholding payments on the bonds hurt the state's credit rating?
Neither Nixon's Office of Administration nor the attorney general's office provided St. Louis Public Radio with any definitive insight into what would happen to Missouri's AAA bond rating if lawmakers refuse to appropriate money for the stadium bonds. That would be up to rating agencies, like Moody's or S&P.
Peacock told reporters last month that lawmakers may be hesitant to not appropriate bond payments because it could imperil the state's credit rating. And Republicans like Kinder are reluctant to advocate for not paying off state debt, citing provisions in the Missouri Constitution.
But others — like House Budget Committee vice chairman Scott Fitzpatrick and Schaaf — said the credit rating wouldn't necessarily affect their decision-making. In fact, Schaaf said: "If our state's credit rating is damaged, then all that really means is that we won't be able to go into debt — and if we can't go into debt that means my children and grandchildren won't have to bear more debt.
"I don't care if hurts our credit rating. I'm not going to have them play chicken and win. I'm going to win at chicken," he added. "Because I really don't care about the bond rating as opposed to the pocketbooks of the people of Missouri — and my children and grandchildren."