Downtown St. Louis To Sprout Its First Rooftop Farm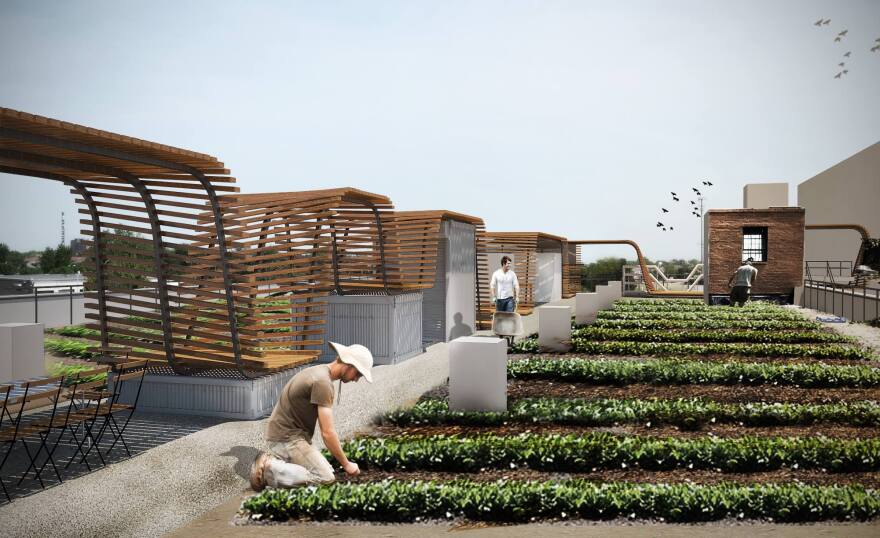 St. Louis will soon have its first rooftop farm.
Urban Harvest STL signed a lease for the space this week on the roof of a two-story building a couple of blocks east of the City Museum.
The non-profit's founding director, Mary Ostafi, said the 10,000 sq. ft. rooftop will be more than just a community garden. "We're going to have an outdoor classroom, as well as a gathering space for community events," Ostafi said. "We'll be raising chickens and tending bees."
Ostafi said the farm will also have a greenhouse, so it can keep producing fresh vegetables year-round.
Urban Harvest STL will hire a part-time farm manager to run the operation, but everything else will be done by volunteers.
Along with growing their own food in community garden plots, area residents will be able to buy shares of the harvest through a community supported agriculture (CSA) program. Some food will be donated to McMurphy's Cafe at St. Patrick's Center, a homeless services provider.
Ostafi said planning for the farm has been conducted by the Urban Harvest STL board and downtown community gardeners from the surrounding neighborhood. "So, I wouldn't say we've really put a focus on diversity," Ostafi said. "We're just catering to the people that care about this and want to be a part of it, so far."
But, she said, that could change later on.
"I think there is an opportunity to enhance that mission as we have the farm built, to reach out to a broader component of the St. Louis region to get more people involved," Ostafi said. "But right now, it's just kind of grown as a grassroots initiative."
Ostafi said once the farm is up and running, Urban Harvest STL plans to reach out to city schools to get them involved. The non-profit already has a partnership with one downtown charter school, Lafayette Preparatory Academy, which wants to take classes to the farm on a regular basis as part of the science curriculum.
Ostafi hopes the rooftop farm will serve as a model for other urban agriculture initiatives. "We're trying to show that if we can grow food in downtown St. Louis — the most urban neighborhood in our city — then people really have an opportunity to grow food anywhere they live," Ostafi said.
The project received $33,000 in seed funding from Rally Saint Louis, a crowdfunding platform. Urban Harvest STL has been fundraising to cover the remaining construction costs, which are expected to total just over $300,000.
Ostafi hopes to see construction begin in March. If all goes well, the rooftop should sprout its first seeds by this summer.
Follow Véronique LaCapra on Twitter: @KWMUScience