For those who are injured, the price of gun violence is lifelong
In 2011, Aaron Murray bought his first gun at a sporting goods store — a .40 caliber Beretta pistol. He and his wife were fixing up a foreclosed home in a tough neighborhood in the northern suburbs of St. Louis, and he wanted to protect himself.
Two years later, a bullet from his own gun during a home invasion would leave him paralyzed from the waist down.
Every year, as many as 600 people in the St. Louis region survive an assault with a firearm. Those close calls are not only emotionally and financially draining, but leave many victims with a lifelong disability.
An old house, two dogs and a Beretta
A first time gun owner, Murray checked videos on YouTube to learn how to clean and use his gun. His wife, Tamieca Murray, chose a lightweight Ruger pistol. When the pair visited a local shooting range to practice their aim, they were surprised at how good it felt to shoot.
"We never realized that shooting could be so cathartic," he said.
Their home in Northwoods was spacious and close to his parents. Steps lead from the lower-level driveway to the front door, past a tidy green lawn.
"We poured our heart and soul into it," Aaron Murray said. The couple adopted two dogs; a beagle named Max and a pug-Chihuahua mix named Christine.
The house needed new floors and some fresh paint. Murray, then 25, balanced projects with shifts as a personal trainer, and graduate classes at Logan University in Chesterfield. But a spate of nearby robberies and assaults weighed on his mind.
Tamieca Murray's younger brother lived in their spare bedroom at the time, so Murray showed him where the guns were stored, in case of an emergency.
His brother-in-law shared this information with an acquaintance, 18-year-old Saudi Lamont Brown.
A few days later, Brown came back to steal them.
March 9, 2012
Aaron Murray remembers the day clearly because his morning class at Logan was canceled, giving him an extra blissful hour of sleep. His wife had left for work, so he was alone when an intruder appeared in his bedroom.
"Around 10:30, 10:45 my bedroom door opens and I have no idea who it is," Murray recalled. "He reaches right in the drawer before I can react."
The intruder — later identified as Brown, who was convicted of the crime — pulled out Aaron Murray's gun and pointed it at him. Then, he moved towards where Tamieca's gun was stored. When Murray started to process what was happening, his first reaction was anger. He felt violated.
"He puts [my gun] to my head and says, 'are we really going to do this,'" Murray remembered.
At that point, one of Murray's dogs jumped from the bed down to the floor, catching the intruder's eye.
"I see him look away for a half second, and I jump at him," Murray said — reasoning that if he was going to die, he'd rather go down with a fight.
In the struggle, Brown fired three rounds — two went through his torso, and one buried itself in Murray's spine. Murray's knees buckled and he dropped to the ground, as Brown fled the scene with his gun.
Bleeding profusely, Murray dragged himself to his cell phone to call 9-1-1. Police broke down the front door to get to him, and paramedics folded a sheet to carry him out to the ambulance.
That's when the adrenaline was replaced with a searing, burning pain.
St. Louis gun assaults cost over $16 million a year
When a bullet enters a human body, it pierces through skin, organs and bone. Depending on the angle and velocity, it may tumble in a circular motion, spewing fragments of lead and ripping apart a torso as if it were jelly.
An ambulance whisked Murray to Barnes Jewish Hospital's emergency room in St. Louis, which treats a dozen gunshot victims every week.
Because the shooter was still at large, Murray' name was removed the hospital's patient rolls as a precautionary measure. Even his wife, whose coworker drove her to the hospital in a panic, was barred from seeing him for six hours.
"It was horrible," Tamieca Murray said. "We didn't know what was going on."
After an emergency surgery to stop the bleeding and look for bullet fragments from his intestines, Murray was confined to a hospital bed for 11 days. After a visit by a worried aunt, hospital staff moved him to another room. Only immediate family members could know where he was.
In 2014, 943 people were shot and killed in Missouri — leaving hundreds of families mourning the loss of a child, a life partner, a breadwinner. Most of the state's gun deaths every year are suicides. About a dozen are accidents. But even the fatality statistics mask the full toll of gun violence.
According to state data, 190 patients in the city of St. Louis with assault-related gunshot wounds racked up more than $16 million in charges from St. Louis hospitals that year. The figures reflect initial costs, before the bills are negotiated down by insurance companies and individuals. But not all victims are included in the data, which hospitals provide to the Missouri Information for Community Assessment database.
About half of Missouri's gunshot victims had health insurance between 2010 and 2014 — often publicly funded Medicaid or Medicare — and were somewhat buffered from the cost. The rest were on the hook for tens of thousands of dollars, charges that may be absorbed by the hospital if the patient cannot pay.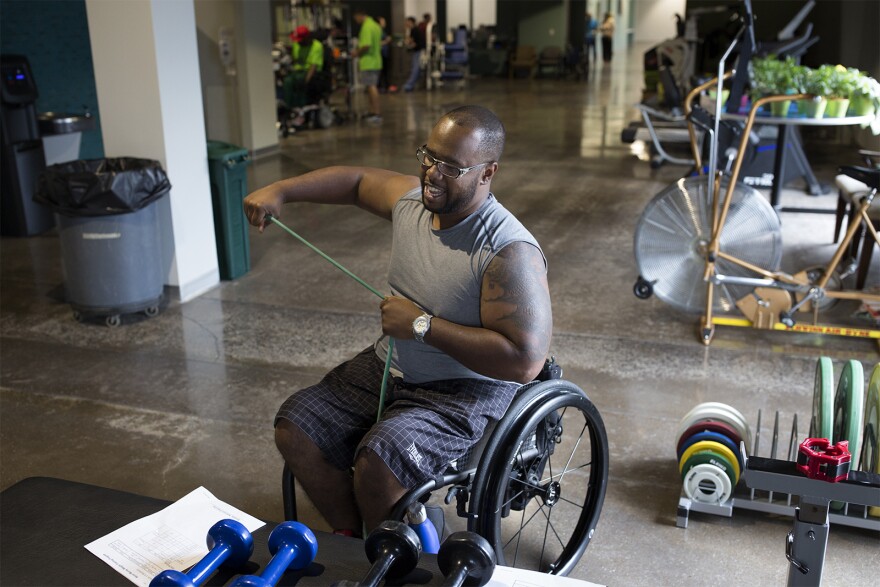 Aaron Murray was lucky. Though young and healthy, he had enrolled in a health insurance plan through his graduate school. But the deductible was $10,000, and even that proved challenging to meet.
Murray's bills at Barnes reached $62,000 for his 11-day stay. After a month of rehabilitation care the costs to his insurance company totaled $110,000.
For expenses that were not covered by insurance, Aaron Murray and his family members dipped into their savings. They also applied for assistance through the Missouri Crime Victim's Compensation Program, which covered what the family could not.
Medical bills make up the largest chunk of expenses for the state's $7.2 million victim's assistance fund, totaling $5.6 million in fiscal year 2013 — the most recent numbers provided by the Missouri Department of Public Safety. Victims can receive no more than $25,000 each, according to state statute.
"The biggest cost is probably the cost to the person's individuality," said Shawn D'Abreu, a Jefferson City-based lobbyist for people with disabilities. D'Abreu sees a direct link between the glut of handgun availability and the St. Louis murder rate.
He's greatly disappointed that last year the Missouri legislature passed a bill to allow gun owners to carry concealed weapons without a permit.
"The cost, both to the individuals who are victims of gun violence, to the police officers who are endangered because guns are so readily available, to the cost to the health care system, it seems that this is something that needs to be dealt with on a systemic scale," he said.
D'Abreu also lives with a spinal cord injury that he sustained as a teenager, after a random attack at a south St. Louis high school.
Recovery & Rebuilding
For Murray, the weight of his injuries first hit him as he lay in bed at a rehabilitation hospital.
His mother was giving him a sponge bath, wiping his feet.
"I couldn't tell if the water was warm, if it was cold, I couldn't tell how hard she was scrubbing … all of a sudden I just lose it," Murray remembered. "You spend your entire life taking something — sensation, being able to tell when someone's touching you — for granted, and you just can't feel it anymore."
Murray spent a month at the Rehabilitation Institute, receiving physical therapy. The costs of this type of care are not included in state totals, and are not always covered by insurance. Hospital spokeswoman Tracie Lee-Lambert said the facility charges $1,000 to $1,500 a day for patients with new spinal cord injuries.
On top of medical bills, the Murrays realized that remodeling their house to accommodate his wheelchair would cost $70,000 or more. So they rented out their home and moved into a smaller one, originally built as a Habitat for Humanity project in the early 2000s.
Murray had to re-learn how to shower, drive, and cross the street without the use of his legs.
Believing he could no longer be the type of chiropractor he wanted to be, he applied to Washington University's graduate program for occupational therapy — a career that would allow him to help people with disabilities manage their daily needs.
murrayWEB.mp3
Listen: Murray discusses his shifting views on gun control
Five years after his shooting, Murray pauses his workout at the gym to demonstrate special maneuvers on a wheelchair. Learning do a wheelie is important, he explains, because it can help reduce the pressure that builds up in his lower back. Hopping a curb, or balancing on the back wheels to get down shallow stairs, makes getting around easier.
He teaches this to other people, at his job as an adaptive exercise therapist for Paraquad in St. Louis. In the fall, he helps run a wheelchair basketball team for the Disabled Athlete Sports Association.
"It's sad to think how much my life changed and everything. But over the past five years there's been a lot of positivity in my life, and I wouldn't trade it for the world," Murray said.
In November of 2013, Brown pleaded guilty to the shooting. A St. Louis County Circuit Court judge sentenced Brown to 25 years in prison. Murray waived his right to make a victim's impact statement — saying he was too angry to face his assailant.
As for the guns, Tamieca Murray's firearm was taken by police investigators as evidence after the shooting. Police never recovered Murray's gun.
"Before, I didn't really have a strong opinion about gun control. I felt safe and empowered, and I knew what I needed to do to keep myself legal and out of trouble," Murray said.
"But … it's just kind of insane how easy it is to get a firearm."
Follow Durrie on Twitter: @durrieB
This article has been edited to correct the spelling of Mr. D'Abreu's last name.