Alleging Retaliation, Some St. Louis County Library Staffers Push For Culture Change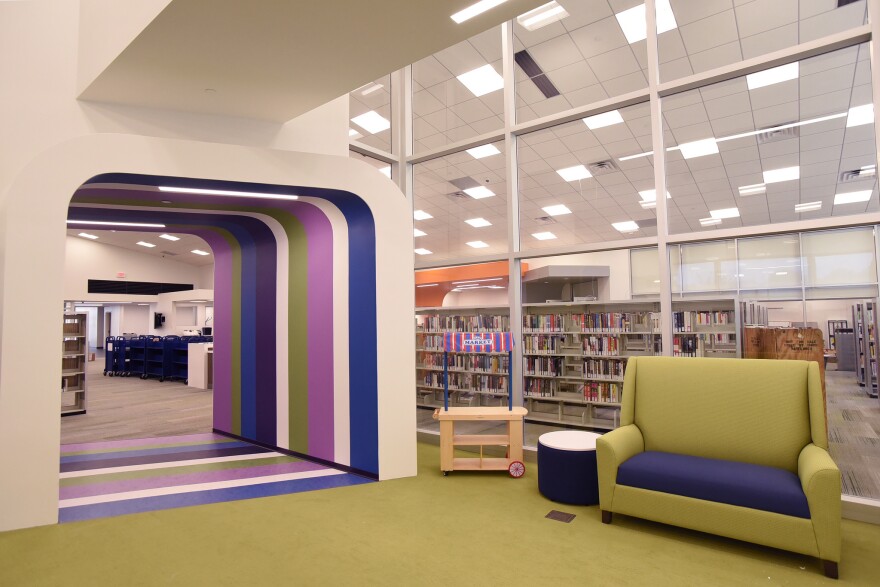 As a part-time clerk for the St. Louis County Library system, Maura Lydon felt like she was beginning to fulfill her calling over the past couple of years. She had decided on a career in libraries and was eager to experience her next steps. Then, in August, the library system laid her off, along with 121 other part-time employees.
The library administration cited reduced services and efforts to be "good stewards" of taxpayer funds as the basis for the staff cuts, as reported by the St. Louis American. But that reasoning doesn't hold up in the opinions of many current and former employees, including Lydon.
For one thing, the layoffs came about a month after some library workers had begun organizing for change under the group name Libraries For All STL, part of a larger network of racial justice-focused efforts among libraries across the country, and some see the move by the administration as retaliatory. In addition, several library workers St. Louis on the Air spoke with remember being assured earlier in the year that their jobs were safe during the COVID-19 crisis.
"They've created a sense of fear even in people that still work at the library," Lydon said, "because we felt safe all through the lockdown, all through the stay-at-home order, because the library was so supportive of us."
Bookmobile employee Julia Singley saw about half of their department transferred to other branches to fill gaps in the wake of the August layoffs. They said they feel the effects in their body and what they call low morale among remaining colleagues.
Both Singley and Lydon, who are white, joined Thursday's St. Louis on the Air to discuss their experiences — and what they would like to see change within the county library system going forward — with host Sarah Fenske.
Singley emphasized that Libraries For All STL got its start in response to the Black Lives Matter movement, with about 50 of the library's employees signing an initial internal petition.
"We wouldn't be speaking with you if it weren't for Black people across time who've rebelled against white supremacy," they said, "in particular everyone who was in the streets during the uprising for Black lives this summer. … We came together, we said: 'This is a crisis. Our patrons are being murdered by police, and this is a crisis that we absolutely have to address in our libraries.'
"Our libraries are using taxpayer money — in fact St. Louis County Library spends over $500,000 each year to staff police. Prior to [the library's] announcement on Monday of their new budget, they were staffing police at six branches, five of which are in majority-Black neighborhoods in north county, one of which is in south county."
Library administration declined to participate in the program. A spokesperson did, however, respond earlier this week with a statement and a note explaining that the SLCL Board of Trustees met Monday and is set to approve the library system's 2021 budget at its December meeting.
Several of the budget items relate to demands outlined by the Libraries For All STL group, including the creation of six "safety-focused library positions" to replace the past usage of off-duty police officers in some SLCL branches as well as an increase in the minimum wage to $15 an hour, among other action steps.
"The COVID-19 pandemic has dramatically changed library service," the statement from the administration to St. Louis on the Air read in part. "St. Louis County Library has made some extremely difficult decisions as a result, while still meeting the needs of our community and keeping our patrons and employees safe.
"This year we have also been engaged in an ongoing dialogue around the critically important issue of racial equity with staff, community partners and patrons. Throughout the pandemic we have provided critical resources to our community, including distributing over 1 million drive-thru meals in our branch parking lots with Operation Food Search, providing emergency diapers and period supply kits from the St. Louis Area Diaper Bank, and issuing thousands of Chromebooks and Wi-Fi hotspots to area students to assist with virtual learning through the Digital Equity Initiative."
Lydon said she is heartened by the library system's proposed 2021 budget, "but it remains to be seen …. what that program is going to look like."
She and Singley both said they're confident Libraries For All STL's efforts have a lot to do with system leadership taking various actions of late.
"Our public petition got more than 1,200 signatures on it," Lydon said. "We have had over 100 public comments submitted to the board meetings in support of our efforts, and even though the library and the board of directors have kind of gone out of their way to minimize the contribution we've made, this would never have happened without our efforts and the efforts of our community who have so generously supported us."
St. Louis on the Air received a handful of emails from other St. Louis County Library employees who said they were people of color who don't support the Libraries For All STL efforts. That included Crystal Harris.
"I am angry and frustrated," Harris wrote in part. "I have witnessed the Libraries For 'All' online group continuously attempt to vilify library administration and board members all in the name of black people! Instead of focusing much-needed energy on the truly frightening social justice issues in STL, they have chosen to recklessly and irresponsibly scream 'white supremacy' at any opinion that is not their own and ignorantly proclaim opinions as facts and assumptions as truth."
When Fenske read Harris' comments on air, Singley paused and then explained that Harris was their manager.
"So that's tough to hear and tough to respond to," Singley said. "But she brings up a point that I want to talk about … these issues — policing, COVID, the firings — they're all connected under this umbrella of white supremacy. They're all connected to the culture that we're trying to change at St. Louis County Library that is one of fear and intimidation."
As far as next steps, Lydon said she hopes to see participatory budgeting processes and less of a top-down approach to big decisions.
"It's a little tough because I'm no longer employed there, [but] what I want to see as a patron, purely from a public standpoint, is libraries that have more input from the communities they serve."
"St. Louis on the Air" brings you the stories of St. Louis and the people who live, work and create in our region. The show is hosted by Sarah Fenske and produced by Alex Heuer, Emily Woodbury, Evie Hemphill and Lara Hamdan. The audio engineer is Aaron Doerr.