'These Are People First': Mayor-Elect Tishaura Jones Talks Justice Center Issues, Historic Win And More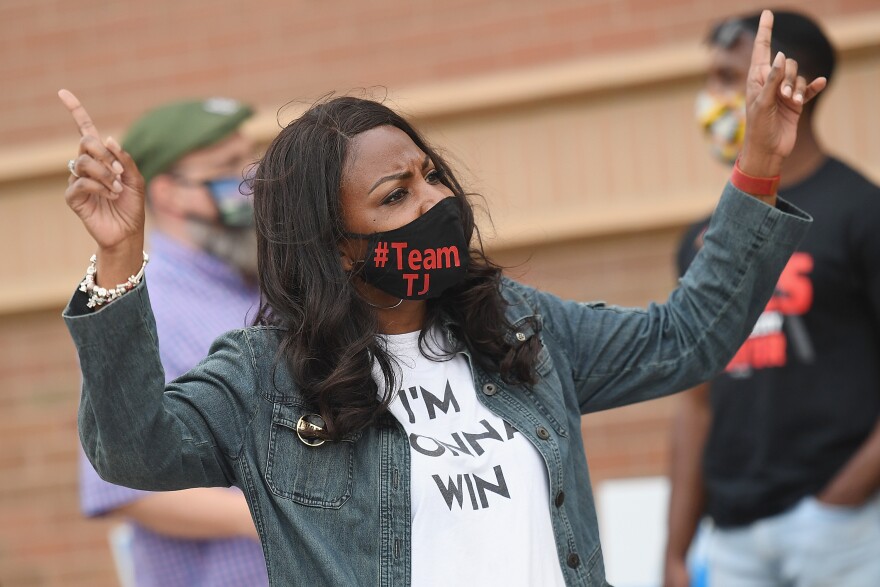 Less than 48 hours after her victory in Tuesday's race and 12 days before she'll be sworn into office, St. Louis Mayor-elect Tishaura Jones said Thursday that she's ready to move fast on a number of fronts — including the critical issues currently facing the City Justice Center.
In conversation with St. Louis on the Air's Sarah Fenske, Jones suggested that Corrections Commissioner Dale Glass, who's been criticized in the wake of the latest uprising at the center Sunday night, needs to go.
"One of the things that I have learned in the last several weeks is that Commissioner Glass can only be fired for cause, and I believe there is a lot of cause with having four riots in our jails since December," the mayor-elect said.
She emphasized the need to "start moving [the pretrial detainees] through the process so that we can uphold their constitutional rights" as well as "make sure that everybody that's in there needs to be there."
"Obviously our detainees feel like they are not being heard," Jones said, adding, "As a daughter of someone who's been incarcerated ... I realize that these are people first. These are people's loved ones, and we need to treat them accordingly."
Earlier this week, Jones garnered about 52% of the vote in the mayoral runoff against fellow progressive Cara Spencer, the city's 20th Ward alderwoman. When Jones takes office on April 20, she'll be the first Black woman to serve as St. Louis' mayor.
Reflecting on this spring's race, Jones described her campaign as having a different feel than her first foray into the contest, when Lyda Krewson won the 2017 Democratic primary by a small margin.
"Losing by 888 votes, I think, also makes you more determined to win the next time," Jones said. "So you are checking off all of the boxes, crossing all of the t's, dotting all of the i's, knocking on all of the doors, making all of the phone calls and getting everybody you can to help you do that."
On Tuesday night, as the city collectively waited with baited breath for election results to roll in, Jones was surrounded by her campaign team and her father, former St. Louis Comptroller Virvus Jones. She recalled the elder Jones grinning from ear to ear when the news came.
"He's so proud of not just me, but I have two younger sisters as well," the mayor-elect said. "And he prides himself on raising three strong and smart daughters. And we've done just about everything that we've set out to do, and he's just so proud to just be there to support us in everything we do."
'These Are People First': Mayor-Elect Tishaura Jones Talks Justice Center Issues, Historic Win And More
Listen as St. Louis Mayor-elect Tishaura Jones, on the heels of her Tuesday victory in the city, talks with host Sarah Fenske.
She expressed confidence about the quick transition between administrations, pointing people to a newly published page on her website that outlines her transition team as well as job openings.
"One of the things I talked about during the campaign is that we needed to elect someone who's ready to lead on Day One," Jones said. "And I have the executive experience of coming into an administration that needs help and fixing things that are broken, as I did with the treasurer's office."
She noted that her team and Krewson's met Wednesday and "will be in continual conversation" going forward as well.
"They've made themselves very available to us and also to Cara Spencer just to make sure that whoever won had some sort of baseline," Jones said.
And when it comes to working with the St. Louis Board of Aldermen, Jones said she plans to "let them know that they have an ally in the mayor's office and that their voices are being heard."
"St. Louis on the Air" brings you the stories of St. Louis and the people who live, work and create in our region. The show is hosted by Sarah Fenske and produced by Alex Heuer, Emily Woodbury, Evie Hemphill and Lara Hamdan. The audio engineer is Aaron Doerr.